WHO WE ARE
St. Michael and All Angels is a Traditional Anglican Catholic Parish in the Diocese of the South. Archbishop Mark Haverland is our bishop. We are a church that C.S. Lewis would have been proud to call his home church. Our liturgy comes from the 1928 Book of Common Prayer.
Why do we worship in this traditional manner?
This is the way by which christians have worshipped for hundreds of years. Our service is directly linked to the worship of the early church that we see from the very beginning of the church.
DO NOT DELETE - PLACEHOLDER FOR FIRST COLLAPSE
Why do we call ourselves Anglican? Are we part of the Anglican Communion
We call ourselves Anglican because our prayerbook tradition orginates from England. Archbishop Thomas Cranmer in the sixteenth century compiled the 1549 and 1552 Books of Common Prayer. Now, this was not a new religion but simply a return to the Early Church. So, in this way we are part of the Church Catholic.
We are anglicans, but we are not a part of the Anglican Communion in the sense that we are in communion with Canterbury. 
Why do you use the 1928 prayerbook?
We use a prayerbook because it give us all a common liturgy in our vernacular tongue, English. This way one can know that we are not making things up as we go, but rather we stick to a traditional liturgy that has been handed down to us through the centuries. It also includes offices that you can do at home as well with your families and talk about the Faith with your children. 
Now, why the 1928 prayerbook? You may have heard of the 1979 Book of Common Prayer. There are many reasons for this, but if you look at it then you will see that it is a very different book from its predecessor. We beleive that the 1928 Prayerbook was the last faithful prayerbook. 
What is the Real Presence? Is it the same as Transubstantiation like my Roman Catholic friends believe?
In St. John 6, we see that Jesus says we eat his flesh and drink his blood. This is biblical and so we beleive, as the Early Church did, that Christ is present in the Eucharist. This is the definition of Real Presence, Jesus tells us in this chapter that it is real body and real blood. So, the Church has always taught that He is indeed present.
When one says that they beleive in the Real Presence it is common to associate this with Transubstantiation. Transubstantiation is Real Presence but Real Presence is not necessairly Transubstantiation. We do not require any member to have a prticular view, as long as they beleive in Real Presence. There are many viewpoints, such as consubstantiation and mysterium tremundum( Great Mystery).
Do you worship Mary?
This is a common misconception about the idea of veneration. We honor Mary because our Lord honored her. For example, see St. John 2. It has been a tradition of the Church to honor her. So, we continue that tradition. The Society of Mary would be a great place to start to learn more about the veneration of the Blessed Virgin Mary.
Why do we use "older" language?
This is a common question. One issue is that modern language is not as strong as the older form. For instance, liveth and livest. The first one is the suffix for the third person and the second is the suffix for the second person. In addition, the older style gives us beautful meaningful words like "sundry," "vouchsafe," and many others. These words are much stronger than their modern counterparts. Also, the prayerbook has great poetry to it. The Coverdale Psalter for example is so beautiful, whereas modern language attempts have not done it justice. These prayers, the psalter, and even the King James Bible provides a beautiful rendering that makes our worship a joyful sound to the ears of Almighty God. If it was good enough for our ancestors, it should still be good for us.   
Do you accept the doctrine of the Trinity?
Yes, as Christians we realize that the trinity is presented throughout all scripture as the nature of God. God exists in three distinct persons: The Father, the Son and the Holy Ghost. St. Tertullian wrote a work on this and has been accepted by the Church Catholic since the beginning.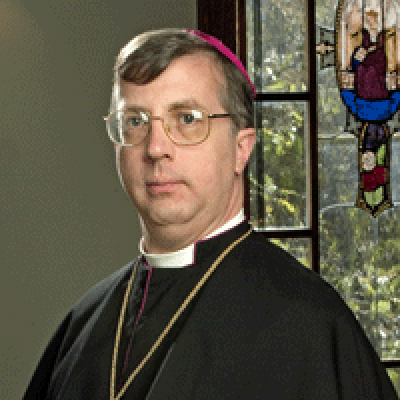 Archbishop Mark Haverland
Archbishop Ordinary of the Diocese of the South and Rector
The Archbishop serves as the Bishop of our Diocese and also as the Metropolitan of the Original Province. His office is at St. Stephens Pro-Cathedral in Athens, GA. 
He also serves as the rector of this parish. 
Fr. Brandon Cribbs
Parish Priest
Fr. Brandon is from St. Augustine, FL. He assists in services and also is known to teach bible studies from time to time. He loves the Old Testament as a part of God's Redepmptive Plan. He enjoys Hebrew!
Fr. Laurence Wells
Rector Emeritus/Founding Priest
Fr. Wells is the founding priest of our parish. He and his wife, Olga, are such an important part of St. Michael and All Angels. He currently serves as the Ward Superior for the Society of Mary.
Kathy Ball
Organist
Kathy is our organist and is also the mother of one of our own members, Kathleen Ball. She comes from the Reformed Tradition and knows the 1940 Hymnal very well! We are blessed to have her!
David Campbell
Senior Warden
I was born in Connecticut and raised in extreme western New York where I served as an
acolyte at St. Luke's Episcopal church and developed a passion for natural history. I
attended Cornell University on a Navy ROTC scholarship. There I majored in Biology
(Systems ecology and evolutionary biology), was both usher and vestry member in the
Episcopal Church at Cornell, served as president of the campus natural history society for
two years, and was an undergraduate teaching assistant for the freshman majors biology
course. I graduated with a BS in biology and a commission in the United States Navy.
During my naval service I earned my pilot wings (helicopters) and made four extended
deployments on aircraft carriers, spent three years as a helicopter flight instructor, and
finished my career as the disaster preparedness/response specialist for the admiral
stationed in Jacksonville. During this time I served as an usher at Holy Cross Episcopal
Church in Pensacola and as an usher and lay reader at Good Samaritan Church in
Orange Park. Following my navy career I became a junior high science teacher at Ridgeview Junior
High in Orange Park. When the school transitioned to a high school I followed and spent
19 years teaching biology. I created both the Advanced Placement and International
Baccalaureate biology programs at my school and was Ridgeview's Teacher of the Year in
2000. I was one of the principal authors of the current Florida science standards for
biology. I retired from teaching in June, 2017. I met my wife Lynne in 1982 and we married in 1984. We have no children but have
rescued and rehabilitated/socialized more than 50 feral cats, some of whom still live
with us. We came to St. Michael's in 2003. Lynne sings in the choir and I handle usher duties
and, when needed, rescue out of place wildlife from the church and parish hall.
In my free(?) time I speak at Victim Impact Panels for Mothers Against Drunk Driving
and continue to advocate for sound science teaching in public schools. I enjoy wildlife
photography (published in half a dozen books and several magazines), kayaking, reading
a wide variety of books, listening to classical music and old time radio shows, and
repairing/restoring (very) old fountain pens.
Bud Jackson
Junior Warden
He and his wife, Bridget, have been faithful members of our parish. Bud is always ready to serve the parish in whatever the need is at the current time. He currently serves on the Building Committee.
Sue Krall
Sue is an active member of this parish. She has been involved with many ministries at SMAA including the Society of Mary. She is the contact for the Society of Mary and has a heart for people, no doubt due to her many years as a nurse. She still works as a nurse at River Garden. We are extremely blessed to have her with us!
Kaye Cain
Treasurer
Kaye is originally from England and a life-long anglican! She is always ready to welcome a new person to our congregation! 
Joe Wolfersberger
Treasurer
Joe, with his wife Judy, are faithful members of St. Michael and All Angels. They are active members and ready to serve in whatever ministry they feel God is leading them to in a particular season!
Judy Wolfersberger
Judy, with her husband  Joe, are faithful members of St. Michael and All Angels. They are active members and ready to serve in whatever ministry they feel God is leading them to in a particular season!
Laurie McDonagh
Vestry
 Laurie McDonagh is married to Denny and is a mother of 3 grown sons. She was raised in New York, and worked as an registered nurse and has been a lifelong Episcopalian. She has been a member of St. Michael and All Angels for about 6 yrs. She loves to sing in the choir, and serve in the following ministries:  Flower Guild, Co- chair of ACW, Vestry member. She is also a member of the Society of Mary.
Michael Cain
Vestry
Michael serves as an acolyte and has two lovely daughters. He loves this parish and we are blessed to have him!
Kathleen Ball
Vestry
Kathleen serves in many roles at our parish from member of the Society of Mary to singing in the choir! She always has a positive attitude and is welcoming to all.